Fertilizer Program
We have constructed a six step fertilizing program to ensure that your lawn receives all the necessary nutrients at the optimal time. Let us take the hassle out of shopping for, handling and storage of chemicals. We are certified through the Kansas Department of Agriculture, have more than ten years of lawn care experience and only use professional grade fertilizers.
Granular fertilizer/pre-emergent:
Results: thicker, greener grass. This treatment also helps prevent crab grass.
Round 1 (early spring - February through March)
Granular fertilizer/weed control:
Results: helps turf hold its green color as hot weather approaches and creates a barrier against weeds.
Round 2 (late spring - April through June)
Spot weed treatment:
Results: removes summer broadleaf weeds and crabgrass from lawn and also provides us an opportunity to analyze the lawn.
Round 3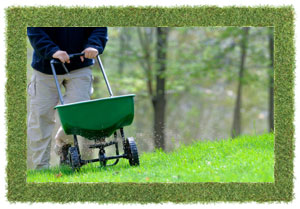 Granular fertilizer/insect inspection:
Results: helps turf maintain thickness and color during periods of hot weather. Application also deters thinning and browning caused by insect damage.
Round 4 (summer)
Granular fertilizer:
Results: stimulates root growth and thickens turf when weed competition is at a minimum.
Round 5 (early fall - August through September)
Granular winter fertilizer:
Results: longer fall color and earlier spring green-up. It helps build energy reserves and stimulates root growth as opposed to top growth.
Round 6 (late fall - October through November)
This year, discover how affordable the path to a beautiful lawn can be! We have a friendly, knowledgeable staff to answer any question you may have. Call 913.262.3746
today for a free lawn analysis. For more than a decade we have been providing fertilizer service to Prairie Village, Mission Hills, Leawood, Overland Park, Fairway, Westwood, Shawnee, Olathe, Mission, Merriam, Lenexa, and surrounding areas of Johnson County, Kansas.