Landscape Design Services
The fundamental purpose of landscape design is self-expression. Your lawn tells the outside world who you are. It is the first and last thing that your neighbors, guests and friends see when they visit your home. "To create a landscape means making a composition...the most important part is harmony between the elements." Our passion is creating unique landscape designs that our customers love.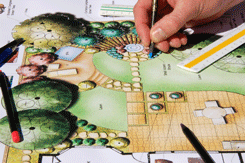 Our primary goal and focus is to make you feel at home. We believe it's all about you. When we create a landscape design, we take into account many considerations such as functionality, maintenance, color pallet, focal points, family use and cost. We can help you design an economical landscape or a showcase that will be the envy of your neighbors. Call us today at (913) 262-3746 to get started.
Landscape design ideas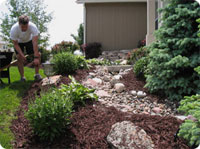 A great way to add contrast to your landscape is the installation of new mulch beds. They immediately add a sense of sophistication to any home.

No outdoor space is complete without the trickling, splashing sounds of running water. Add a fountain to your back yard and transform your lawn into an outdoor retreat.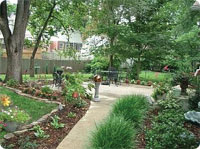 There is no better way to relax in your backyard then with a set of new summer furniture. We have an extensive line of outdoor furniture from traditional garden swings to contemporary comfy sofas for the outdoors. These additions transform your yard into an outdoor living space.
Don't forget, landscaping is all about the details. A great way to accent any design is through the use of pots. Whether its a small centerpiece decoration on a table or a large pot on the front porch that acts as a beautiful focal point.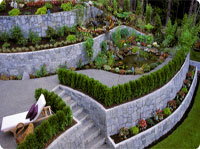 The path to relaxation starts with a new garden. One of the best ways to relax and enjoy the summer is to come home to your own personalized garden. From fragrant roses that perfume the air to personally selected plants based on your favorite color schemes, we can create a backyard that soothes your senses.
Right now is the perfect time to turn your landscape dreams into a reality. Give us a call today to set up a free, no obligation estimate.
Comprehensive lawn and landscape maintenance
In addition to our landscape design services, we offer a variety of maintenance services to keep your lawn and landscape looking great all year round. We know that you are busy, so we want to make life easier for you. In a fast pace world there is nothing better than coming home to a manicured lawn and a beautifully kept landscape. Let us take care of the mowing and pruning so you can relax and enjoy your weekend.
More than a decade of experience
For more than a decade we have been providing Landscape Design services to Prairie Village, Mission Hills, Leawood, Overland Park, Fairway, Westwood, Shawnee, Olathe, Mission, Merriam, Lenexa, and surrounding areas of Johnson County, Kansas.